I see the words 'Judy Blume readalong' crop up on my Twitter feed and my first thought is I'M THERE. Wouldn't that be everyone's first thought, surely? I had planned on my own read through of the Blume's back catalogue last summer
after going to her talk at Waterstones in Piccadilly
, but I only got as far as
Tales of a Fourth Grade Nothing
swiftly followed by
Superfudge.
Might get around to writing those reviews one of these days...
Anyway, when I saw
Keris Stainton had organised a Judy Blume readalong
in preparation for the author's appearance at YALC in July, I was grabbing my copy of
Forever
off the shelf before you could say 'no, I really don't want to take a look at Ralph thank you', because, yes, the first book to be read was
Forever
, and the Twitter hashtag was
#readalongralph
. Anyone who read this book in their youth (or indeed their adulthood) knows all about Ralph.
RALPH.
My own memories of
Forever
are vague to say the least. I remember Ralph, of course, and I remember the rug and the events which took place on the rug but other than that, it was all a bit hazy. Basically I remember the sex. When I first encountered this book I was about 11 and I couldn't quite believe there was a book that talked about willies, and now, as a 35-year-old reading this is 2015, I'm still struggling to get my head around that fact. It's so strange to think that a YA book written and published in the 1970s with this much frank sexual content probably wouldn't be published now (or would it? My instincts think not. Maybe I'm wrong). Does this mean we're regressing, or that teens want less-in your-face sex in their books? Or that (more likely) we're underestimating teenagers' abilities to grasp the realities of sex, downsides and all?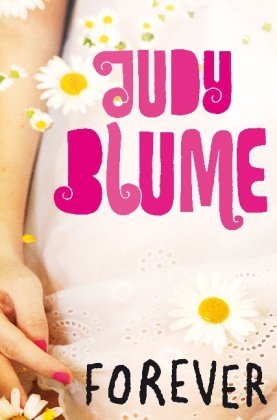 This leads me onto the book itself. There is a lot to love about
Forever
, but I'm not entirely convinced it worked as whole. I remember when I went to her talk last year, she said she wanted to write a book about teenagers having sex where no one died, and this is the thing I appreciated most about it - a realistic depiction of teenage sex that feels just as relevant now as I imagine it would have done when first released, and the fact that this sort of frankness isn't rally found in most contemporary YA means Forever is even more vital today. I loved the trademark Blume sense of humour, the rich selection of engaging supporting characters and perhaps most of all, I loved the positive depictions of women and girls - a grandmother who once ran for Congress, a supportive best friend who's mother is a leading film critic, a anthropologist sister - all this is depicted in a very naturalistic way, just as it should be, because it
is
natural to be surrounded by strong, clever, supportive women.
But the fact that these supporting characters were so well depicted shines a light on the shortcomings of Katherine and Michael. They were just a little bit dull in comparison. Katherine made a lot of mature decisions but I never really understood what she saw in Michael. It's never really explain why he is THE ONE, the only really indication being that she loves him because he shows an interest in her - realistic, perhaps but still not very satisfying from a reader's point of view, and I think that same sentiment can be used to sum up Michael too.
PRECIOUS
Forever
still feels like a very important book and I'm glad I revisited it. However, in writing a book about sex, some other things that would have made this a better read, like plot, took a back seat. So a vital book, yes, but by no means a perfect one.
Just quick request for publishers to please keep in the small, beautiful reminders that this is a period piece in future editions - Katherine's brushed nylon nightdress, her joy at the mushrooms embroidered onto her jeans, a teenagers' fondue party (although perhaps this would happen today in an ironic way) and the icing on the cake, Theo and his glorious moustache.
Long live Theo and his glorious moustache!